Don Purvis is the dictionary definition of unsung. I met him for the first time a couple of years ago when I bought
The Basics
. Not really knowing what to expect, I was struck by the cover art which featured an MPC and a Playstation.
"What?? He's making beats on MTV music generator!? How interesting! This could either be really great or really awful."
Well, it seems neither held true because,
The Basics
was phenomenal. It stayed in my car CD player for over a month.
The Basics
was completely written and produced by D.O.N. I became captivated by D.O.N.'s wordiness, the clarity of his diction, and his positive messages. I re-visit the Basics about once every couple of weeks and I can still listen to the entire album from start to finish, not daring to skip ahead.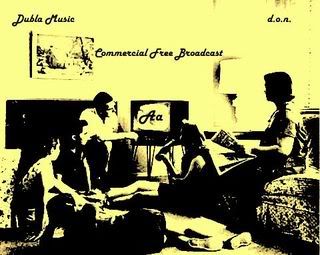 Well, when I heard about the new EP I had to get a copy of it. My first attempt to listen was twarted by someone sitting on the brand new CD and cracking it in half... Blast!!! Well, when I went to visit Aaron at Dubla Studios, he gave me another copy. I immediately put it into the CD player, afraid to have this copy meet the same fate.
Well... It seems he's left Dubla, to the production duties on this one, and Sqratchmo is always solid on the cuts. Of course I'm looking forward to hearing more from D.O.N. So here goes...
As the intro sounds off... "This is a commercial free broadcast..."
The first track "Brand New Day" is an upbeat jam laced with horns, and the curious sound of vinyl crackle throughout. D.O.N. starts us off with the happiest jam first. The song's message is more about maintaining your cool and staying positive amongst a world of stress and the evils of the everyday world. The track ends with D.O.N. still rapping as the music fades out. I've always loved this technique, it adds a sense of mystery and frivolity to a track.
From this point on, the tracks seamlessly blend together underneath strong drums that are at times tribal. Dubla pulls samples from the most obscure sources, and from song to song it's a mix of jazz, African, psychedelic, hip hop, spoken word and odd samples. His production reminds me of Madlib/Metal Fingers.
D.O.N. marches through every track like he's on some sort of mission. He poses moral questions, throws himself back to the early era of Hip Hop, demonstrates his mastery of the english language and in other words he's being himself.
After about ten listens now, I'm still discovering certain subtleties in his presentation. What I like about this album is the fact that it's just him (as was
The Basics
except for a brief Paul Barman bit in the intro), no cameos. Also the length of the tracks are exactly where they need to be. Only two tracks on the EP clock in over three minutes. This is the kind of album that is perfect for a trip across town. While it's listed as an EP, eleven tracks used to be an LP not too long ago. Now people want to put twenty-five tracks on a CD, which completely dilutes any greatness that the album may contain. Finally someone is getting it right.
This is music for the thinking man. D.O.N. isn't for everyone, that's for sure. But if you're tired of the status quo and are longing for the days when rap music made a difference, D.O.N. will satisfy.
I know Don Purvis. He's a new father. He's a regular working Joe. He's got problems. He gets discouraged. He's a Christian. His struggle, is our struggle. This is his endearing quality. For a man who goes to work every day just to put food his family's table, he's still got the time to write and record some of the best Hip Hop in the world today. He's not rich. He doesn't live off of his music, he works to live! The defining quality of his music is the fact that the more you listen, the more it opens itself up. After a while, new words seem to spring forth like water from a fountain. Wordplay that previously went unheard peeks around a corner like a playful child. D.O.N.'s music isn't happy. It's brooding and contemplative, and at the core it's honest. It reflects one man's struggle to maintain a rap career, whilst all around him are lesser caliber rappers garnering more acclaim for dumbed down music that promotes ignorance. D.O.N.'s music will never be pop. Nor will he ever win a Grammy, not in this world at least. I can only hope that he begins to sell more records. I hope that in this world, he can tap into the audience of lost souls searching for a more meaningful listening experience. D.O.N. will not disappoint. He makes the kind of music that invites you cleanse your mind. He's a underdog that you always want to root for. He's just a regular guy, who just happens to be one of my favorite rappers.
You can find D.O.N. on myspace at
myspace.com/dontheworker504
. You can follow him on twitter @dontheworker and he's also got a Facebook. His albums are available through cdbaby.com.